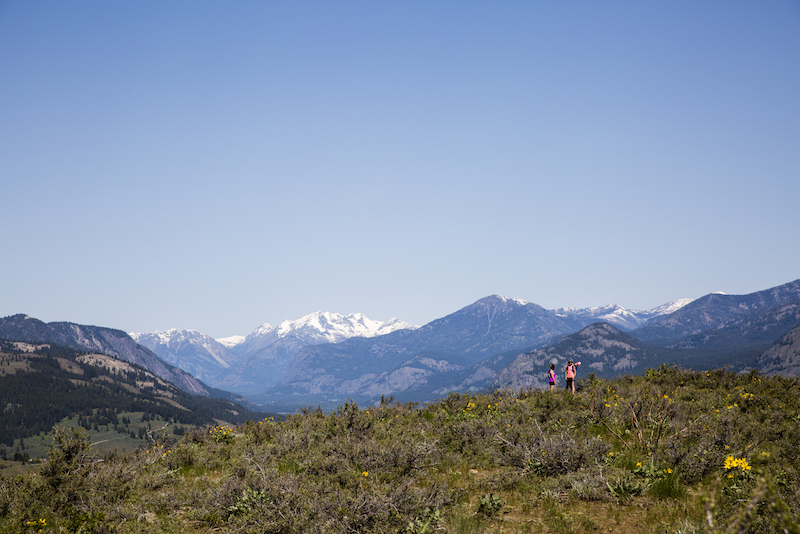 Women's Trail Running & Yoga Camp
April 23-26, 2020
Mazama, WA
Run amid snow-capped mountain views and wildflowers, recover with catered meals and new friends, and relaxation in a beautiful place.
It's the tenth annual Women's Trail Running and Yoga Camp!
Join us for an extended getaway to experience the best the Methow has to offer: sun, fun trails, snow-capped mountain views, wildflowers, and relaxation in a beautiful place. We'll be based at Mazama's Heli Barn so you can drive in on Thursday and not get in your car until you leave on Sunday.
Late April brings myriad wildflowers valley-wide. We'll tour the upper valley on daily runs (or twice daily if you're so inclined) lasting between two and four hours. You'll have the chance to work on running technique, learn how to stay injury-free and how to eat for optimal performance with nourishing meals to fuel and refuel. Or, spend time between runs and yoga practice just hanging out: this retreat is for everyone!
Bree Dillon of Motive Yoga Co is our yoga leader. She brings a wealth of knowledge and experience working with athletes of all kinds, helping them find more balance in their active lives. We're excited to combine forces to bring you a cohesive weekend of running, yoga, and how to transfer what you learn and practice this weekend to your daily life.
Interested in what the weekend is about? Read Michele's account of the 2015 event or check out these beautiful photos by Hannah Dewey Photography. For the tentative schedule, click here.
2019 Women's Trail Running Retreat

$395 if Paid by Check
$405 for Credit Cards
Checks must be received within 1 week of initial registration. USE CODE: PAYBYCHECK at checkout to complete the transaction.

Send Checks to:
Cascade Endurance
14 Highland Meadows Rd.
Winthrop, WA, 98862
 
The plan: wake up, eat yummy food, run, eat yummy food, practice yoga, relax, eat yummy food, sleep, repeat.
When: Thursday, April 23-Sunday April 26, 2020
Cost: $395 includes the following:
Hosted Hors d'Oeuvres and drinks Thursday evening, and all breakfasts and lunches

Guided trail runs in groups based on level and distance

Daily yoga practice with an emphasis on running muscles

Running technique work

Injury prevention/strength session

Optional talks on building a training plan and nutrition

Technical shirt and other goodies from our partners

Warm sun and new friends.
If you need to cancel your registration for any reason, you will get a full refund (less credit card fees) until Feb. 20, 50% refund until March 20. After that date, you may transfer your registration to another event, but no refunds will be given. Thanks for understanding.
Cascade Endurance operates under special use permit with the Okanogan-Wenatchee National Forest and is an equal opportunity provider.